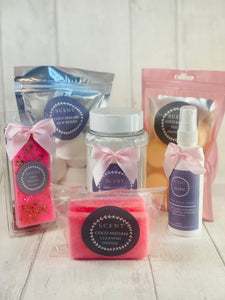 From our Cleaning Collection. 
To beat the January blues we are offering a fabulous cleaning bundle consisting of:-
6 x Toilet Freshener Bombs
6 x Mop Bombs
1 x Room Spray
1 x Carpet Freshener
1 x Cleaning Sponge
1 x Wax Melt
Items are fragranced with one of the following perfumes and will be chosen randomly depending on stock levels. N.B We do not have a complete set in each individual scent.
Angel, Aliens, Coco Madam & La Belle.