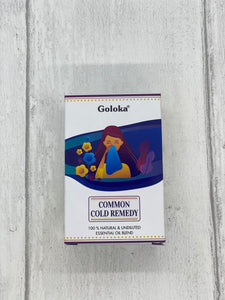 Product Information: 100% Natural and undiluted essential oil blend.
The anti-inflammatory and analgesic Eucalyptus wedded with the tension relieving Peppermint, with additional soothing qualities of Rosemary comes with therapeutic qualities of Cove and Lemon. When you drench in rain use it to prevent. When you already have it use it to relieve. An all-embracing product you must have.
Product Weight: 10ml
How To Use

Simply pour some of the oil into a burner. Light a tea light candle and put it inside your oil burner. Let the fragrance fill your home. There is no need to add water!
Because this is a fragrance oil you can use it in reed diffusers or even sprinkle onto dried flowers.
Add 2 or less drops into your bath which elate your senses within your bathroom.
Massage by adding 2 or less drops into a massage body oil and enjoy the feel within.
Safety Information
Never put your burner or candle near any flammable objects. Do not put your burner on or near anything that can be heat damaged. Do not put your warmer within reach of children or pets. Never leave a burning candle unattended so that it cause a fire.
Avoid contact with the eyes and on broken skin. Should this happen rinse well with clean warm water. For external use only. Discontinue use in the case of any adverse reaction.