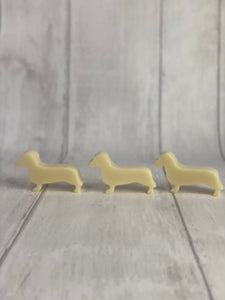 From our Bakery & Sweet collection.
Fragrance Description: A rich vanilla accord with notes of caramel and tonka. Smells just like vanilla custard! Ideal for those who like sweet smells!
Each pack contains 3 sausage dogs.
Please note, soy wax is a very soft wax and during transit can smudge onto packaging. If you are buying this as a gift and the wax smudges onto the front of the bag, please remove the dogs from the packaging and wipe the front with a dry cloth.