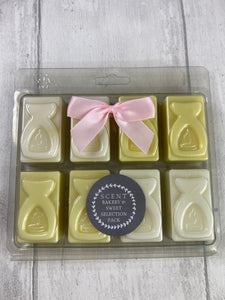 We have picked four of our best sellers from our Bakery & Sweet collection and created this selection pack for you. 
This pack contains:
2 x Banana Caramel Cupcake Wax Melts
2 x French Vanilla Wax Melts
2 x Lemon Sherbet Wax Melts
2 x Rhubarb & Custard Wax Melts
Embossed with a wax melt burner, these wax melts are easy to use and also look pretty!
This are ideal as a starter pack or a lovely present.