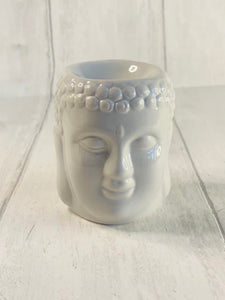 Product Information: Grey Buddha head oil burner.
Key features:
Dimensions: H 8 cm x W 6.5 cm
Safety:
Please note: These burners are not suitable for wax, they are only to be used with oils.
Keep the burner and tealight out of the reach of children and pets. Do not burn the tealight or leave the burner on or near anything that can catch fire. Ensure the burner is well ventilated and not located underneath a shelf/cupboard or unit. We do not advise you to use 8 hour tea lights in our burners as they can cause the burners to overheat and crack.