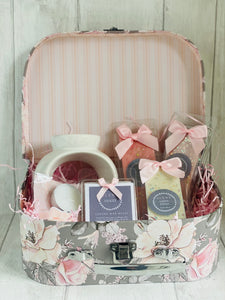 Pretty Floral Suitcase containing:-
Large Burner
3 x Wax Melt Snap Bars
1 x Wax Melt Clam Shell
2 x Tea Lights
Personalised Gift Card
Item can be sent directly to the recipient on your behalf.
Please Note - Action for you at checkout:
At checkout, please leave a comment in the note box choosing your fragrance preferences for the 3 bars e.g fresh, linen, bakery, perfume, aftershave, and we will choose our best sellers in that range for you. If you would like a personalised gift card, please also write your message in the comments box.
Please also ensure that you list the recipients address as the delivery address if you would like this sent directly onto them.
N.B: Burner shape and colour may vary due to stock levels.
The contents of this gift set are valued at nearly £24.00, saving you nearly £4.00 when you buy this as a gift!