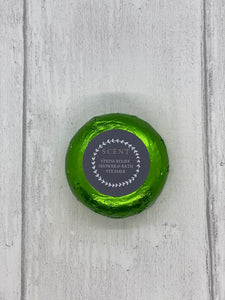 From our Bath & Body collection.
Product Description: Stress Relief involves removing stress in your environment and very often superfluous people! What better way to get some relaxing 'me time' than to go for a nice long soak or shower. This blend contains essential oils that are reputed to alleviate symptoms of stress and allow your uplifting and carefree nature to resurface. 
Directions for use in the shower: For maximum results use in a hot, steamy shower. Simply unwrap and place the steamer on the floor to the back of your shower, out of the stream of water. You want it to slowly fizz during your shower, rather than quickly run down your drain. It's like your own personal little aromatherapy room, the steamier the better! 
Directions for use in the bath: Use like any bath bomb, unwrap and place into the bath. Lie back, relax and allow to work for 15 minutes for maximum effect.
Safety Information: 
Ingredients: Ingredients: Sodium Bicarbonate. Citric Acid, Witch Hazel, Bergamot (Citrus Bergamia Melarosa), Patchouli (Pogostemon Cablin), Orange (Citrus Sinensis), Ylang Ylang (Cananga Odorata) and Thyme (Thymus Vulgaris) *may also contain the naturally occurring allergens of citral, eugenol, farnesol, citronellol, geraniol, limonene, linalool*
Product Weight: 90g.