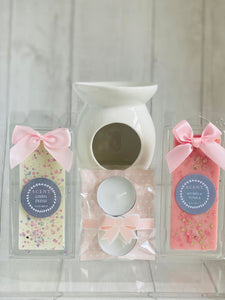 New to wax melts and not sure what to order? You have come to the right place as this little pack is ideal for you!
It contains everything to get you up and started but please don't blame us for the wax melt addiction which may follow!
Pack Contains:
Burner
2 x Wax Melt Snap Bars
2 x Tealights
At checkout, please leave a comment in the note box choosing your fragrance preferences for the 2 bars e.g fresh, linen, bakery, perfume, aftershave, and we will choose our best sellers in that range for you.
Please note: Burner shape and colour may vary due to stock levels.