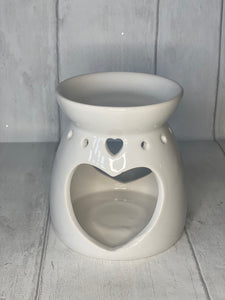 Product Information:
Pretty White Heart Burner
Key features:
Dimensions: H 12.5 cm x W 11 cm
Safety: Keep the wax melt burner and tealight out of the reach of children and pets. Do not burn the tealight or leave the wax melt burner on or near anything that can catch fire. Ensure the wax melt burner is well ventilated. 
Cleaning: To remove the used wax from the cleaner, light the tealight and allow the wax to soften. Using a cotton wool pad/ball scoop out/soak up the remaining wax. Blow out the tea light and remove. Wash burner with soapy water to remove any fragrance residue. 
When you can no longer smell the fragrance when the burner is heated, its time to change over the wax. Please note, the wax is not like a candle and will not dispense when burnt.